desktopdial 1.0.2
A clock dial for the desktop.
To use this package, run the following command in your project's root directory:
DesktopDial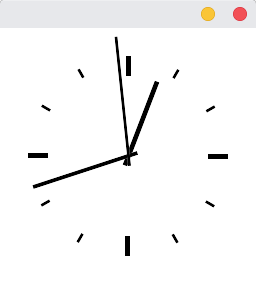 Montras la aktualan tempon en dial-horloĝo.
Priskribo
La apliko montras la aktualan tempon en dial-horloĝo. Ĉi tio ĉiam montriĝos en la fronto se vi uzas X11 medio.
Dependeco
Konstruaĵo
$ cd ~
$ git clone https://github.com/masaniwasdp/DesktopDial.git --depth 1
$ cd DesktopDial
$ dub build --build release

Ekzekuto
$ cd ~
$ DesktopDial/build/desktopdial [path]

path estas la vojo al la agorda dosiero. La defaŭlta valoro estas DesktopDial/build/asset/dialdesign.json.
Permesiro
© 2018, masaniwa
La programaro estas licencita sub la MIT.
1.0.2 released 2 years ago
MIT
Copyright © 2018, masaniwa
Authors:

Dependencies:

Versions:

Show all 4 versions

Download Stats:

0 downloads today

0 downloads this week

0 downloads this month

0 downloads total

Score:

Short URL: